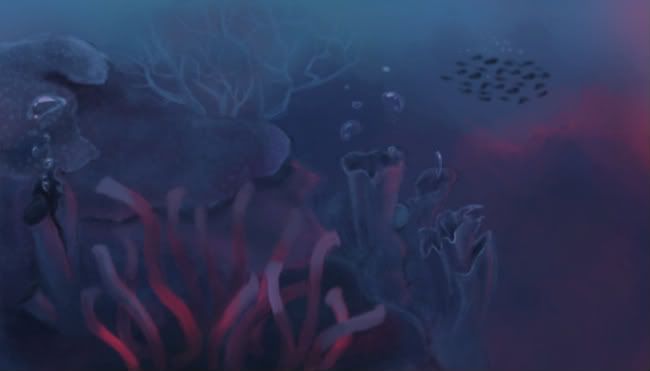 I FINALLY got started on some projects that are actually supposed to be for stuff aside from my own amusement.
This little business card sized scene is for some tags that are going to be used for some products Emily and I are making for upcoming cons. They are going to be a special line of items designed to raise ocean awareness. All proceeds are going to go an ocean environmental group that has yet to be chosen.
Little facts about the ocean and how you can help will be put on the tags. I'm hoping that it is a success. 8D
After watching all these ocean documentaries I kind of get discouraged because I never know what I can do to help. I'm in the middle of a continent, and have almost no money. Oceans and ocean life have had a huge impact on me since I was a little girl. I actually probably would have pursued marine biology if I didn't do art. They're a huge inspiration for me and now I think it's time to find some way to give back, especially knowing about all the threats the ocean is faced with these days.
LUCKILY, I'm not the only person I know that feels this way. Emily probably loves the ocean just as much as I do; she's actually going to college in hopes of studying chemicals in the ocean.. or something along those lines, I can't exactly remember. Anyway, we were talking about how frustrating it was that we didn't know what to do to help and then it dawned on us: educating. Education is really the most important thing you can do when put in situations such as ours (we're not in any position to run away and be activists) so we are going to try and do so at the place we interact with the most people: conventions.
I know that people there aren't exactly... looking for this kind of stuff, and it may be a flop.. but I did have brief talks with people about the ocean at the last con because they liked my sea life prints. SO YEAH. Make stuff, put tags with info on, talk to the people, if they buy/donate the money will go whatever organization we end up picking. We'll be making crochet animals, pins, prints, and whatever else we can think of.
If it goes well me might try and expand the people involved.. but for now its just two girls and a dream.